Surf legends
July was Honolulu Museum of Art's 10th Annual Surf Film Festival which took place at their Doris Duke Theatre. I was super stoked to get a ticket to their closing reception, which not only showcased the last film of the late Bud Browne, who was the first ever to produce commercial surf films, but it also included a Q&A panel with some of the best surfers in the world when surfing was a budding sport in the 50s, 60s and 70s.
The panel consisted of: Ira Opper, Billy Hamilton, Larry Bertelman, Randy Rarick, Joey Cabell, Peter Cole, Jock Sutherland, Jeannie Chesser, Ben Aipa, Kimo Hollinger, and Clyde Aikau (to be honest, I had to google/wiki most of them). But these men and woman are so incredibly impressive. They're now in their 80s or so and are bright-eyed, mentally and physically sharp, and eloquent. And they're still so stoked. Sooo cool to be in a room full of legends that shaped the surfing industry to what it is today!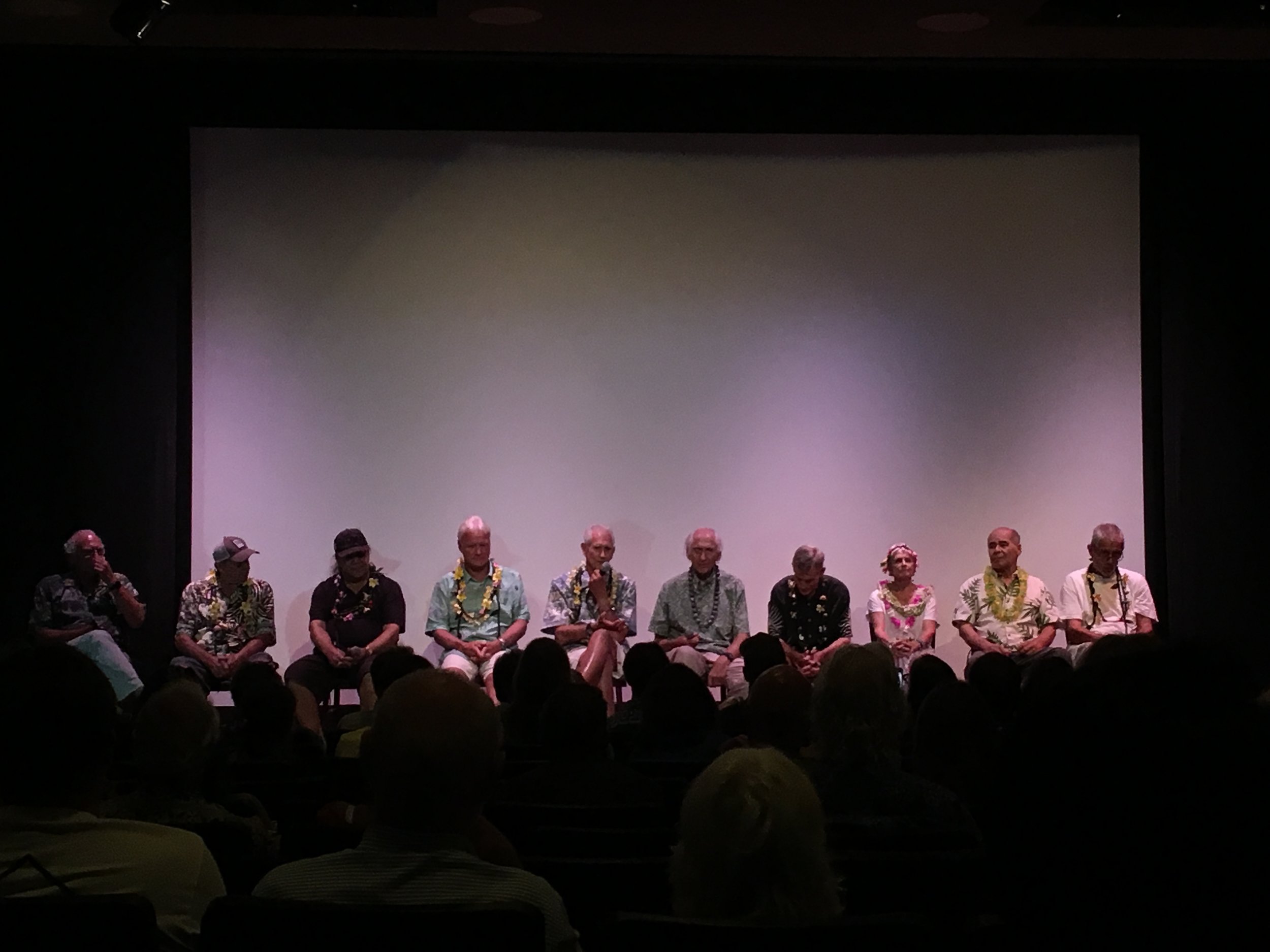 Randy Rarick was the creator of the Hawaiian Triple Crown competition that's held in the North Shore every winter. He said one of the reasons he wanted to help launch professional surf competitions was because back in the day, surfers were seen as surf bums that didn't/couldn't hold a regular day-job. At the time surfing was not seen as a professional sport, but he knew that professional surfers could one day make millions. Today, John John Florence makes about $3 million a year.
Jock Sutherland, winner of the 1967 Duke Kahanamoku Invitational and one of the first tuberiding shortboarders, has a break named after him at the North Shore.
Jeannie Chesser was one of the first (and few) female pro surfers in the early years. She still surfs and is an awesome surfboard artist. Her husband died when her son was two years old, and that's when she decided to move to Hawaii to seriously pursue surfing. Sadly, her son died at age 28 while big wave surfing at the North Shore.
Ben Aipa didn't start surfing until he was 23. Then he surfed every single day for a year and by the second year he was competing professionally. He started shaping boards and by the 5th year he had his own company, and became a big innovator of surf board design. I got some Aipa fins on my 6' 0" Chris O'dell board so that's pretty cool!
Clyda Aikau, brother of the legendary Eddie Aikau, surfed the 2016 Eddie Aikau Big Wave competition at age 66. These waves were over 40 feet high (face) - he trained hard to be able to compete, and compete well. Check out the video of his talk story.
I surf Concessions at dawn with some guys that are in their 60s. They're better paddlers than I am. It's so inspiring to be in the water with them, and to think, if I am lucky enough and dedicated enough to stay in good shape, I can surf for the next 3+ decades.