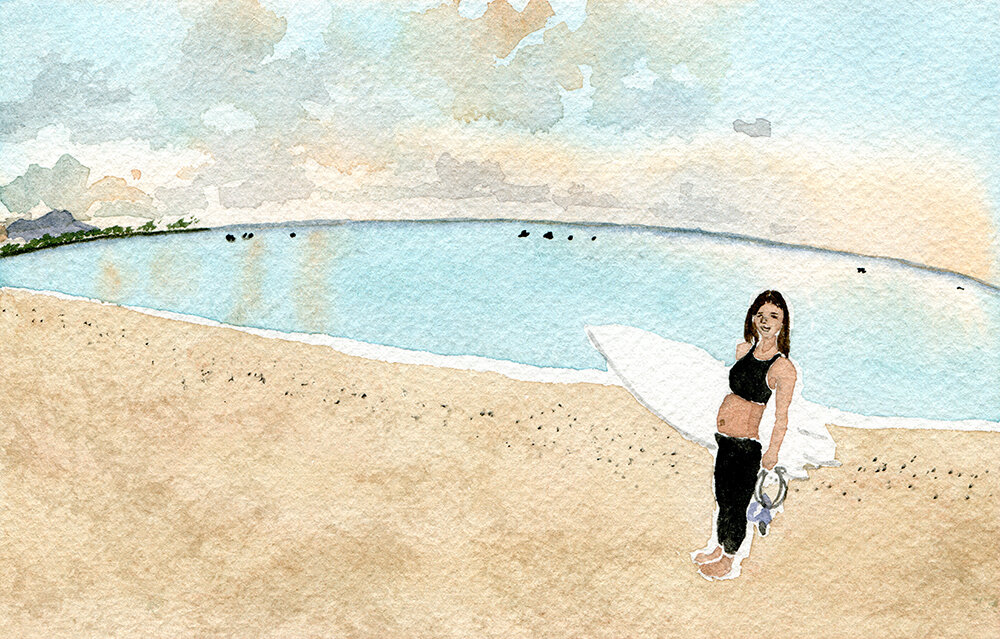 Day 100 Painting
Path with a Heart, 5x7" Watercolor on Paper
100/100
It's incredible to realize that Day 100 is here. This last painting represents a lot of things to me. It started off as a friendly Instagram comment - that I turn a photo of my last sunrise surf session (during week 21 of pregnancy) into a painting. The more I thought about it, the more appropriate it felt to make it as Day 100's.
My life changed when I moved to Hawaii over three years ago. I moved here because I had the surf bug - I wanted to become a decent surfer and make time in the ocean a bigger part of my life. I started painting after I moved to Hawaii - the healing powers of nature, the ocean, and seeing numerous sunrises over Diamond Head opened up a mindset where I was grateful for everything, and art was a way to express and capture that gratitude. I then met my husband here with my mindset of appreciation and maybe I also impressed him with my surfing (probably not my surfing abilities, but my commitment to surfing at 6AM).
I guess I'm trying to say that family, joy, beauty, connection to nature - all of these things are represented in the Day 100 painting. My message is, listen to yourself - your gut, your heart. If you feel an inexplicable pull towards something or some place that feels right, go towards it, take the path with a heart. Everyday, take a small step. Listening to myself and trying to be true to myself has brought me great gifts. And the greatest gift of all, of course, is love. (Check out my blog to read more about those gifts and what art and surf have taught me.)
$10 for shipping and handling will be added at checkout. If the delivery address is based outside of the U.S., additional shipping charges may apply.
(Janet Meinke-Lau, Honolulu 2019)
sold out